The tourism sector has experienced an unprecedented crisis following the Covid-19 emergency. Finally, now we are beginning to see the first signs of recovery, but not everything will be the same as before. As in other economic sectors, tourism has been at the center of analysis and reflection on how it will have to re-propose, re-adapt and reinvent itself in the post-Covid era. The key word that will involve the sector for its future is: SUSTAINABLE DEVELOPMENT.
Tourism operators are called to grow their projects with this vision, not only out of a sense of responsibility in the face of climate change, pollution and environmental protection. Sustainable development will in fact be a key to relaunch also in economic terms: national and European institutions are investing many billions of euros on this, which will go to sensitize consumers in their choices, and to support companies or associations that will believe in sustainability, updating themselves on new models of tourist offerings to be launched in the market and proposing their ideas.
For these reasons has been launched the Mediterranean Alliance for Sustainable Tourism (MAST), a project funded by UfM for Employmen Promotion that has among its promoters our partner MACTT Ngo, along with other partners from Greece, Italy, Tunisia and Morocco.
The project is aimed at companies, professionals, teachers, young people and students working in the world of tourism. All of them are immediately offered a free one-hour online course to keep updated on the dynamics of the tourism sector in the post-Covid era.
The course is already available, free of charge after registration, through this link.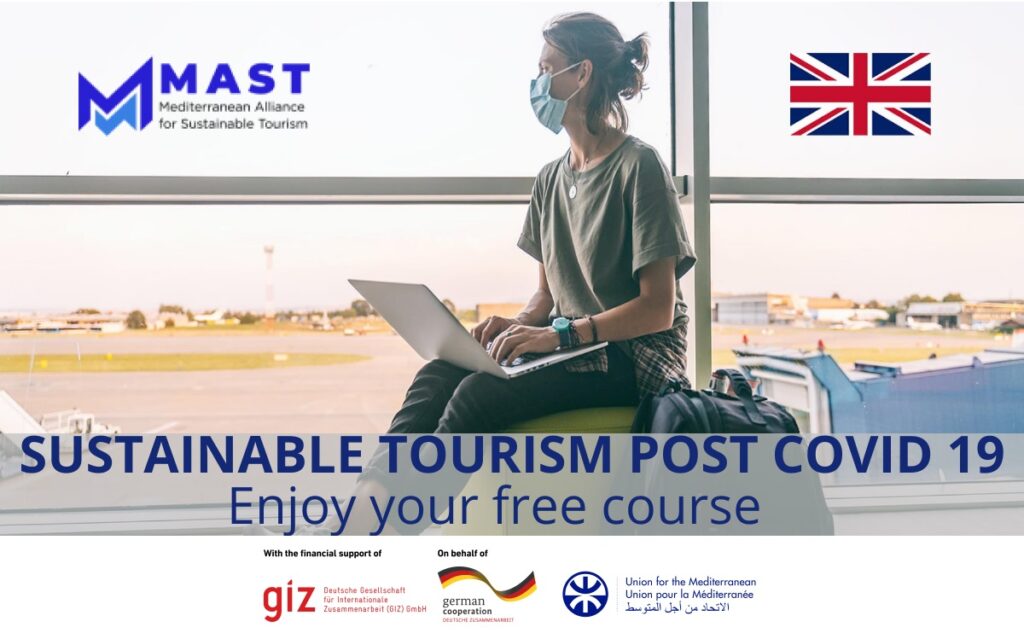 The next steps of the project foresee the opportunity, for those who attended the course, to submit a project or a business idea related to sustainable tourism models to be relaunched in the near future: contributions can be submitted by December 31, 2021, and the best proposals will receive a special prize!
The third and last step concerns the construction of a new community of entrepreneurs, professionals and tourism operators: a community aware of the importance of sustainable development and ready to benefit from it both economically and in terms of image.
So let's start with the course "Sustainable tourism post Covid 19": at no cost, to update and grow together!