The international Blockchance Europe 2021 is Germany's leading B2B conference and trade fair on blockchain technology and also one of the biggest in Europe. It will take place from December 2-4 in the building of Hamburg's City Hall for the third time, with the partnership of Malta Business. Around 1,500 participants, 200 investors, 120 international speakers and 50 exhibitors are expected.
Highlights of the conference are a startup award, a one-day Artificial Intelligence Summit, DIY-Workshop's and a sustainable and interactive networking area with palm trees and pool as well as a unique supporting program with VIP Breakfast, Gala Dinner, Cinema Night, and the legendary After Glow Party.
There will around 120 international and national representatives like spokesmen from United Nations, European Commission, German Federal Government and experts from Bitkom, Bafin Bitmain, BMW, Börse Stuttgart, Club of Rome, ConsenSys, Deutsche Bahn, ECB, HHLA, HPA, IBM, IOTA, Mercedes, Tesla and Volkswagen.
The Chamber of Commerce, in the City Hall of Hamburg, is Germany's former first stock exchange. It is located downtown in the famous Hamburg "Innenstadt" boasting first class hotels, restaurants and a mere 20 min to the Hamburg International Airport. The BLOCKCHANCE initiator and CEO Mr. Friedrich says: "BLOCKCHANCE mission is to educate about economic perspectives and social changes and chances brought to us by Blockchain, Distributed Ledger, and other Future Technologies. We create a unique networking, match-making, and education platform for c-levels, investors, entrepreneurs, politicians, IT experts, scientists, and students. A new era is upon us and we embrace this knowledge and leap forward towards a more sustainable and confident future".
Key topics are Blockchain technology use cases, digital assets, sustainability, governance, traceability, data security, ID management, token economy, digital banking, intelligent transport systems, robotics, AI and IoT.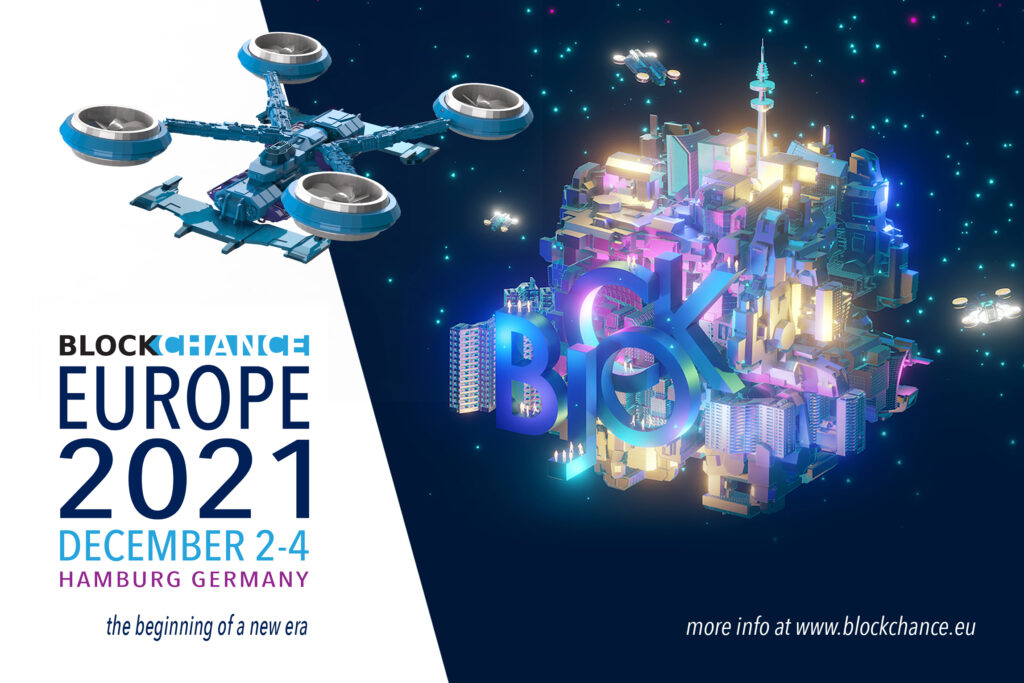 What makes the Blockchain Technology so special?
We live in a world where the availability of and control over data in economics, politics, and private life are important factors for security and independence. Blockchain Technology can give us back control over it by allowing us to ensure the integrity, availability, and authenticity of data by the public domain. This algorithmic trust machine can lead us to a world of justice, transparency and equality. Throughout the new paradigm of cooperation and new forms of decentralized organization, we got a tool to solve the big problems of humanity. In a blockchain world, cooperation is more effective than competition. This will lead to the restructuring and uplift of our society, institutions, and economic systems. Together we can build the foundation for a new world.